Diary
2006
July: Nothing has changed, June has left and the Football World Championship is going on. We are still watching every match and when Italy scored a penalty against Australia just 5 seconds before the end of the match Evi got very angry, as the Australians played much better than the Italians. And again Italy was so lucky when winning against Germany and scoring a goal in the last minute before penalty shoot-out. By the way a German football team never has lost a penalty shoot-out except against Czechoslovakia in the European Championship in 1972. That's the best result of any footballteam in the world. We won't tell you that in a penalty shoot-out Germany would have won, but it would have been possible. But Germany only lost one match during this Championship. A result they can be proud of, especially when you think of all the criticism of Klinsman before the Championship. When it came down to the semifinals other sailors got interested in football too and even some German sailors joined us waving the German flag while the German matches. And the way the German team played football was so good, that we really liked it and got proud of being German. Reaching the 3rd place and kicking out Argentina was a very good result.
Lena got used to the Football World Championship. As there are only one or two matches a day we changed our strategy and kept Lena awake as long as possible and even went to the pools at the True Blue Bay Hotel so that she felt asleep in her Buggy right before the match started and then her parents were able to watch most of the match undisturbed by their daughter. But when she got awake we presented her ball and so she started to run around the Sportsbar and kick her ball all over the place. After 4 weeks she really improved a lot in kicking.
As soon as the World Championship has found its end, Stephan got back to his To-Do-List and started with all the work he was already planning for weeks. We bought a new VHF as we up to now only had a hand-held one and for better ship to shore communication and also for listening to the American Weather channels. The hand-held had no possibility to receive the Weather channels as it was bought in Germany and there are no Weather channels especially American ones and so those frequencies are not available. We also wanted a different alternator and and and. But after buying the interesting part starts, getting it all mounted and working. In the meantime our packet has made its way from Germany to Grenada and is waiting at the post office to be collected. It only took 5 weeks for this short journey but now our SSB Transceiver and an Antennatuner have finally arrived. So Stephan got there only to check it's all in right condition and to learn that he has to go to a customs broker to get all the paperwork done. But for this day customs had already closed as it was 3:30pm, so he should come again next day and also bring a form C14 from the customs at Prickly Bay. But as soon as the customs broker saw the bill he couldn't believe his eyes, it was written in German and so he and Stephan went to customs to ask for the right procedure. They wanted to see a translation by a licensed translator. But according to the Tourist Office there is no licensed translator for German on Grenada. So after a couple of hours a word was spoken by the deputy of customs: the customs officer at the post office shall reopen the parcel and check its containing and note down what he seen on the bill and Stephan should help him identifying the different items. By the way, all the mess was for 4 lines on the bill regarding the 4 items. The difference was in spelling was like Koaxialkabel instead of coaxialcable or Antennentuner instead of Antennatuner. But customs officer at the post office liked this idea of his boss, he looked like he had to open a grave and check if the dead body is the one written on the tombstone. After that procedure the real work of the customs broker started. Filling in lots of forms with very detailed information on the goods, calculating the fees, doing copies of the bill, ... But sharp before lunch break they were able to deliver the paperwork at customs. But the customs officer dealing with this case was already in his lunch break and so Stephan went to the market to by some greenstuff, a V-belt for the new alternator, ... and he got himself a cold beer at the Grenada Yacht Club. But today none was lucky, as the customs officer has mixed up start of lunch break with end of work and at 3pm he was still not back and at 3:30pm customs closes. So Stephan returned only with the things he organized during his lunch break! Next day will bring new luck the customs broker told him when he left for the bus to Prickly Bay!
Next day all three of us went to St. George's and after only 1.5 hours waiting we were allowed to pay the fee and go to the post office to collect our parcel we were desperately waiting for. After this highlight we went to the market to buy some 6m of cloth with sewing cotton and loop band. Evi will make new covers for our cushions as the old ones got really dirty due to Lena's efforts in drawing. Stephan will be consumed up by his to do list, as there is to mount the SSB-transceiver, antennatuner, antenna, ... A 7m antenna has to be mounted, lots of cables must go from one point to the next and all need to be according to their needs. And some days later when everything is ready he switches on the transceiver and is happy as all works out as predicted except the fact that transmitting is limited to certain frequencies. Sending is only allowed to amateur frequencies but not marine frequencies. But most of the communication is on the marine frequencies and the most relevant difference between marine transceiver and amateur transceiver is the price. Marine transceivers cost up to 3 times more. When opening them they are pretty the same, some even undistinguishable. The problem is not receiving the transmissions but to actively participate. So how to make the transceiver capable of sending on all frequencies? Internet helps www.mods.dk gives hints on opening the frequencies. We have to unsolder a small diode but we are missing the solder of the right size. Luckily we made friend with a German who left Germany already 30 years ago and he is dealing with electronics here on Grenada. He has the right tools and after 5 minutes of work and for the exchange of one bottle of rum we get our transceiver back with no limitations. Evi also has asked for a fixed VHF installation on board as to provide us the possibility for communications with crewmembers ashore and on board. We already have a hand-held one and so we buy a VHF for fixed installation. Now we are also capable of receiving the American weather channels as our hand-held can not do so. American weather channels are not known in Europe and so the VHF there can not receive them. These are the small differences between two continents.
An alternator is another topic on our long list of improvements and wishes. Our watermaker drains 40Amps an hour (at the same time it is producing 60l of water) and the refrigerator takes another 8 Amps and the inverter also wants 2-3 Amps while listening to CDs, ... So in the end our consumption is much higher than the production while the engine is running as the actual alternator has a maximum output of 50Amps or app. 40Amps while the engine is running. Therefore we are looking for an alternator with an output of app. 70-80Amps as to reduce the time the engine has to run for producing electricity. At a dealer at the other end of St. George's we luckily get one fitting to our mounting brackets and so we buy it. But when installing this one we realize that this alternator has no regulator and is not intended to have one. So Stephan gets on the bus to St. George's, changes at the bus station and luckily he was able to find another one at the dealer. A regulator is built in, a fitting pulley is fixed on the wheel, only pin W for the revolution counter is missing but this can be changed easily by soldering in a wire at the appropriate point. But when it came down to testing, we had to realize that this one is delivering far less than our old one, only 20Amps. So we dismount the alternator, cut out the pin W and return it at the dealer who is willingly returning us the money.
After all this we intended to stay to our old alternator when we got notice of a Kiwi selling a 85Amps alternator. This one was without a regulator, pin W and a pulley but it was fitting into the space we have available. At St. George's we get a pulley specially turned for us and Stephan is soldering in a pin W. Stephan is becoming a real expert in alternators! But unfortunately the new regulator became very hot and died within minutes after having it connected to 12VDC. That was on Saturday so on Monday we went back to dealer to get a new regulator but he insisted to have no one else. We are not sure about this answer as we believe that he just does not want to take the risk again of warranty claim. But we get our money back and Stephan is running all over St. George's to get another regulator, but he was not lucky this day. We get a hint on a mechanic on the northwestern coast and after several phone calls we made an appointment. So all three of us got to St. George's and on to Gouyave. After 2 hours of busride we finally arrive and and indeed this mechanic is worth going all the way. It took him only minutes to built in a new regulator and get our alternator working and he was the only one to put it on a test-bench and check it thoroughly. So we take the alternator with us and mount it the same day. Testing it in real conditions the next day we could not believe our eyes, output was 74Amps and when the watermaker was running our batteries were still loaded with 25Amps. What else did we ask for?
Certainly we use this opportunity to do some sightseeing in Gouyave, a nutmeg cooperative is on our list and so we learn about harvesting and processing the nutmegs till a precious spice is the endproduct. Also at Douglaston Estate we visit how the different spices like cinnamon, cacao, coffee, nutmeg again and clove are cultivated and processed. In former times more than 200 employees were working on this farm, but nowadays the whole site is run down and only 20 people or so run the small museum. No spices are grown any longer at this farm.
Lena has had her name day on the 22nd of July. So you guess what the gifts a 22 months old girl gets? No, she did not get a doll but a toolbox with screws, fasteners, a hammer, a screwdriver, ... All made of wood but nevertheless she likes to hammer all over the ship and test it thoroughly. And not only in this night night she wants to take the hammer with her into her bed an as soon as she sleeps her parents take out the hammer again as it can give her a "hard" time sleeping on this.
So what else to do when not working on the boat? All technical problems are solved or at least will be solved in a couple of days. We thought of a typical Bavarian dish and we agreed that we will to bake our own Pretzel! So we downloaded a recipe from the internet and started to gather all ingredients. What else does one need in the morning than a warm Pretzel with butter? Even Lena likes it more than her beloved bananas. OK, the first trial was not the best one but for the second one we invited some other yachties and we were all happy on the result and enjoyed drinking beer and eating Weisswurst and Pretzel for breakfast. So we got rid of the last 4 cans of Weisswurst, but it was worth tasting Weisswurst, warm Pretzel and beer in the Caribbean Sea on a Sunday morning. Moni and Hermi intended to leave for Trinidad at the morning but they postponed it for the evening when we invited them for the typical Bavarian breakfast. They already went once around the globe and so we learnt a lot on the Pacific and all those nice places there. We liked this Sunday morning and we will sure make some more Pretzel soon. But a daily warm Pretzel served for breakfast will be a dream, only for some special days in the year we will bake some. It's an awful lot of work and takes several hours.
Every morning we are listening to the cruisers net on VHF at 7:30am (Monday to Saturday) which informs us on the weather, social activities, treasures of the bilge and all the other stuff sailors are interested in. In the afternoon we usually go to the True Blue Bay Hotel to swim in their pools for one to two hours. It's app. 1km to walk one way and Lena usually walks both ways but sometimes she wants to be carried on mamas or papas shoulders. And sometimes we go by bus to St. George's with our huge backpack to stock up on food. Another highlight is the happy hour (5-6pm) at the Prickly Bay Marina where we can have small talk with other sailors and enjoy the best pizzas on the island. The manager is Italian, so it does not wonder that they really taste like ordered directly in Italy. Delicious!! And in between we suffer from the humidity of up to 85-90% at 32°C, that is just a bit too much for us and our penguins. Anyone who wants to cool down can scrub our bottom so we get rid of all the slime, barnacles, algae, ... Especially our propeller looks more like a breeding station for barnacles instead of shaped piece of metal. And even our anchor chain is inhabited by thousands of algae, barnacles and ... We are happy that our boat has not been declared to be a marine park. But now we are here in Prickly Bay/Grenada for two months much longer than we originally intended to stay.
At the end of this month we get ready for a sail and stock up on food. At a supermarket nearby we order lots of stuff like 90l of fruit juice, 20 backs of noodles, ... food we need for the next 3 months. As we intend to stay in Tobago for the rest of the summer we stock up as on Tobago it will not be so easy to get cheap food. Venezuela will be the next stop to pack our boat up to its limits for reasonable prices. So we load 3 huge caddies and as a service all the stuff is delivered free of charge to the dinghy dock. And they keep to their time very precisely and not to GMT (Grenada Maybe Time) the usual time here on Grenada. One day before we leave we go to St. George's a last time to buy some greenstuff and than we are ready to leave for Carriacou. Some of you will wonder why we sail north to an island we have already been to in May instead of looking for a hurricane shelter further south. There are 2 reasons, first there's a regatta from 30th July till 7th August with traditional wooden boats and lots of other events. One week of party on a tiny island with only 9.000 inhabitants! Second it is a much more pleasant sail from Carriacou to Tobago than from the southern tip of Grenada. Tobago is nearly Southeast from Grenada and the prevailing winds come from Southeast in summer. So instead of motoring against headwinds for those 85miles we will be able to sail without tacking. But we'll see if the theory works out.
On the 30th of July early in the morning, soon after Lena has woken up. We lift up our anchor and say farewell to Prickly Bay and our neighbours! After two months at the same anchorage we are leaving for Carriacou today. Sailing there should be an easy one as the weatherforecast promised 15-20kn from ESE starting up in the later morning. So we start our engine and motor during the early morning calm along the southern coast of Grenada. Soon after we realize some current setting us south. After 1 hour the current grows in strength and reaches up to 2.5kn. Under motor we usually go 4.8kn, so minus 2kn of current we only make 2.8kn north, roughly half of the predicted speed. Two months ago when sailing down from Carriacou to Grenada we had much better conditions with 15-20kn of wind from the back and a favourable current. At 3pm wind starts up and again not as predicted. Instead of ESE it is NE with 12kn. So we must tack against the wind and the current. After one hour of sailing we still stand at the same position and so we decide to go to Ronde Island instead of Tyrell Bay. As under no circumstances we would be able to reach Carriacou during daytime. So we alter course and go for the Corn Store Bay on the western coast of Ronde Island, 12 miles south of Carriacou. This is indeed a change to Prickly Bay, no houses, lots of green, fishes in the water and pelican birds diving for their meal. Our guidebook says that the seabottom is covered with stones, we only find sand wherever we look. So after dropping the anchor we are swimming in the water and enjoying the quietness. Only 20 people, mostly fishermen live on this remote island and we did not see any of them during our short stay.
Early next morning we continue to Carriacou. The wind has shifted to ESE 3-4bft but the current is no flowing west with 2-3 kn, so we have to tack again to get to Tyrell Bay. We covered almost 60 miles to get from Prickly Bay to Carriacou, going directly would be app. 40 miles, it's hard to believe what happens if you can't/don't join your trip with a favourable tide. We like Tyrell Bay from the first second after dropping the anchor. The water is significantly more clear than in Prickly Bay, we have sandy beaches and it's not so humid so we do not sweat like we did in Prickly Bay. But shopping does become a day filling activity again, as there is no market place and the few small shops only sell canned food. For fresh food and greenstuff we have to take the bus to Hillsborough and hope that we get what we need. No more air conditioned shopping malls filled with all the stuff you need or at least think that you need!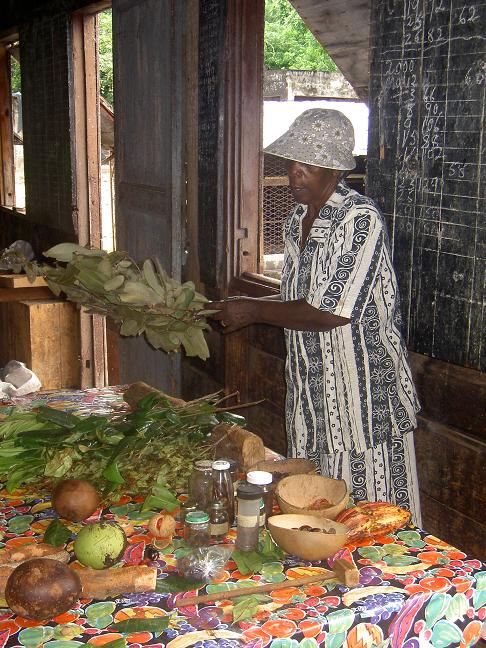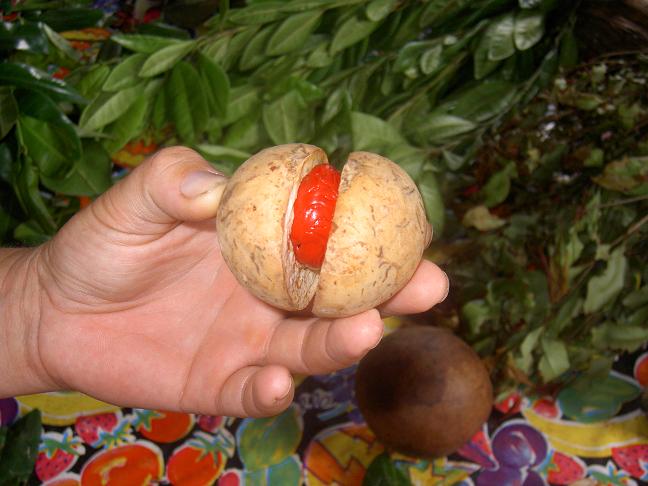 August: Carriacou Regatta 41st has just started! Lots of boats have come to Tyrell Bay and so space for anchoring has become precious. More than 90 boats have gathered and dropped their anchor. No one wants to miss this event. Grenada only has two events a year, the Carriacou Regatta and the Carnival one week later. Besides the boat races lots of other activities have been announced. Yachtraces and traditional boat races are conduced. First race starts end of week but till that lots of other activities can be seen. Miss Aquaval (wet T-shirt contest) has to be elected and a Socca-Party will present at least one of the Socca Warriors (National football team of Trinidad and Tobago). Most of these events take place in Hillsborough, the capital of Carriacou and start late in the evening. According to the schedule 11pm but usually not before 1am, much too late for Lena! But the sailors have also organized some events like Domino, BBQ, Fleemarket, Dry-T-shirt contest, ... And all proceeds of the later activities will be donated to the Carriacou Children´s Education Fund (CCEF), a local charity organisation helping the kids of Carriacou to buy school uniforms, books, pens, ... At the beginning of the these welfare events a BBQ is held at the Carriacou Yacht Club. A really nice location. Green grass, shaded seatings and lots of space for children to romp without a street nearby and guarded by a fence to the seaside, a place all parents will like. Tyrell Bay Yacht Club is one of the nicest and most comfortable ones we saw in the Caribbean Sea. And the weather stays dry all the evening. We meet lots of friends and other sailors we have not met before. There are several categories for the Dry T-shirt contest, one is named the silliest one" and so we put on some really funny ones. Stephan wears the Mimpi Manis Crew T-shirt and Evi a T-shirt with some heads of friends on and every head is put on a penguin body. As everybody knows penguins are not very common in the Caribbean Sea and so Evi won the first price in the category "the silliest T-shirt", a bottle of sparkling wine and a toy for Lena were the benefits. The more the clocks runs the party is getting better and so it does not wonder that some sailors unpack their guitars and start playing songs and singing. But Lena is getting tired as she did not had a nap this day despite all efforts of her parents to persuade her to sleep at least one hour at noon. So we left a bit too early but we enjoyed this BBQ.
On Friday a auction of "treasures of the bilge" takes place and every sailor is asked to donate something he does not need any more. We donate two of our water jerry cans as with a watermaker we won't make use of them any more. Lots of stuff was donated, an old dinghy, a windgenerator, cookies, vouchers for a dinner, haul out and dry stand for one week, dive course, ... All together these activities have raised a fund of more than 13.000$EC (nearly 5.000$US), a sum that will help to cover some needs of the children on Carriacou. We say thanks to John and Melodye from SV "Second Millenium" and all their little helpers who are doing this job since 6 years and supporting the local education system.
The real regatta starts on the weekend: Yachtraces, races of traditional wood boats, work boats, Optimists (a very small class of boats usually sailed by children), ... Lots of the yachts here in Tyrell Bay join the Yachtraces. We didn't thought of taking part as we like anchoring and watching much more than sailing. We are interested in the traditional wooden boat races. Some boats have sailed down from Bequia (50 nautical miles north!) only to take part. As this races starts from paradise beach we get ready and get there by bus. After the boats have left we spent the rest of the day on this beautiful beach. Sunday and Monday (a holiday) the party culminates and lots of activities take place bicycle races, beachvolleyball, swimming contest, tug o war, beer drinking competition, donkey race, .... Although there is an official schedule for all these activities everything starts or does not start at times totally independent from the schedule. That's the Caribbean way of organization. Some events start only one hour later, others don't start at all as there are not enough participants, some are stopped like the Beachvolleyball as the boats of the races come in. So chaos is not far but in the end everybody is happy and having another beer. Caribbean life!, a party lasting 2 days. We waited more than two hours for the donkey race but nothing happens and in the end the race does not take place. So we left at sunset and went to the BBQ at the Yacht club (second one, not to be mixed up with the one on Friday). We have dinner, drink lots of beer and Lena manges to stay wake for some more hours till she finally falls asleep, a really exhausting day!
At the end of the regatta several boats leave and in the end only app. 20 are staying. We spent lot of time on the beach relaxing from the party and the work we did in Grenada. Lena made friend with Rosie. Rosie is 2,5 years old an living with her parents on a sailing boat (SV Ciao) here in Tyrell Bay. The two girls play with each other on the beach exchanging their toys after a short time of shyness. And so the two girls and their parents meet on the beach quite regularly and discuss where to sail next, what to do next season.
Shopping in Tyrell Bay can be frustrating, as greenstuff is usually not available. Maybe some brown cooking bananas or some potatoes but that's all. So we go to Hillsborough on Thursday and stock up there. The supply ship comes in on Wednesday and so on Thursday you get really good stuff and quite fresh. But sometimes the supply ship does not come and so we have to wait and hope. Prices are higher and selection is very limited compared to Grenada mainland but we get what we need. Going to Hillsborough by bus is really exciting, a small and steep road is linking those two villages. The commercial dock is located in Tyrell Bay and so all goods shipped in must use this road and so this road is paved! Now it's summer and rainy season so the vegetation is green and it makes a nice contrast to the blue sea. When we came to Carriacou two months ago we had no time to explore the island as we were heading south for Grenada to have the repairs done and see the Football World Championship. But now we have the time to enjoy this quite and relaxing place.
We do not intend to stay long here and soon after the Carriacou Regatta has come to an end we want to set sails for the leg to Tobago. And indeed the weather forecast for 11th August is pleasant with ENE winds 10-15kn. We will be able to sail to Tobago without tacking. More favourable conditions will not come easily so we get ready to lift our anchor. We even can sell our old dinghy the day before so we have more space on deck as it was stored on deck since St. Maarten. On Friday morning we get ready to set sails, uncover the sails, stow away all items lying around, mount the windvane steering, switch on the anchor windlass, ... but just a few seconds before we start the engine Dirk comes up for a small talk. Dirk is sailing on his "Carpe Diem" with his wife and two daughters since 4 years in the Caribbean Sea. So we tell him that we intend to leave for Tobago soon and he is very keen in stopping us to do so. He tells us that the water is green and cloudy, it rains every day and arriving on Saturday is not wise as we than will have to pay overtime fees and and and. And even anchoring in another bay and check in with customs and immigration on Monday is not wise too as the coastguard checks all bays every day and than it can become really expensive if they check us and we can not produce valid papers. It took him nearly half an hour to make us undecided again and so we stopped our plans, put back the sailcovers, unlocked the lockers, ... We went through our guide books again and sent a few emails to friends already sailing at Tobago and waited for their answers. We do not want to be stopped from visiting Tobago by only one opinion but his arguments can not be denied. Up to now we have heart only positive reports from Tobago and so we really want to visit this island. Maybe we sail there next year when we come down the Antilles again and than it will be May or June a much better time to visit Tobago as the rainy season starts as late as July. And also hurricanes are a less threat in June than in August and September. Tobago has no hurricane hole and in case one comes up we would have to leave for Grenada or Venezuela. Last hurricane to hit Tobago was in 1963 but who knows. Grenada was hit in 2004 and 2005 twice after the last one in 1956!
Bearing this in mind we have to be on a constant watch for weather developments and so we listen to one at least once a day or check the internet. Grenada was hit in 2004 by Ivan and in 2005 by Emily and so we do not want to be hit by one this year. Up to now the prediction of NOAA (http://www.nhc.noaa.gov/) has not become true and the number of tropical storms and hurricanes was less than predicted, but the most active month (September) will be soon. So far only "Chris" has hit the Northern Antilles this year. So what to do when a tropical storm or a hurricane comes up? Depending on its location, predicted track and strength we will either head for the mangroves here in Tyrell Bay or run for shelter in Grenada (Port Egmont) or Venezuela (Laguna Grande or Orinocco delta). Just in case we visited the mangroves here and explored the entrance with our dinghy. Is it possible for us to get into the second bay or will we have to stay outside in the first bay with lots of other ships? It will become crowded there. The entrance into the second bay is only 1.4m deep at highwater and our draft is 1.35m, so it will be very tight getting in. But once inside we have lots of space and not many boats will make it there as only catamarans or boats with centreboards will be able to get into the second bay. We take some measures with our oars and we get the feeling that we will make it in case we must. The bottom is mud with lots of plants on so we will have to be fast to get over the shallow parts. Hopefully we do not need to look for shelter there.
A few days later we leave Carriacou as our visa run out and we wanted to spent a few days on the island Mayreau and in the Tobago Cays. Tobago Cays are not to be mixed up with the island Tobago. Those cays are part of the independent state of "St. Vincent and the Grenadines" and the island Tobago is part of the state of "Trinidad and Tobago". But first we head for Hillsborough to check out with immigration and customs and sail to Union Island with its port of entry "Clifton". We will stay in St. Vincent and the Grenadines for one to two weeks and than return to Carriacou. While sailing those 10 miles we give us a try to catch some fish and put out both fishing lines. Normally you would expect to catch some fish here as soon as you put out a line but there are not many fishes left here. And yes we are lucky, the fishing line runs out but when we look aft we can not believe our eyes a huge frigate bird has taken our bait and now his feet are hooked to the bait and the bird gets drowned every couple of seconds and although he spreads his wings he does not manage to fly away. After a few seconds we think of what to do. Catch the bird and having it for dinner or try to release him? When trying to get the bird closer to the boat he suddenly manages to get off the hook and instead of flying away he floats on the water unable to do anything except breathing. Hopefully this bird has learnt his lesson and will not try to catch baits again and we are lucky that we do not have to make experiences in cooking a frigate bird.
Stopping on Union Island is only for immigration (yes we have entered an other country) and stocking up on greenstuff. The supply ship from Grenada has not come to Carriacou and so there was not much left in the shops. So Evi goes to the market while Stephan and Lena head for customs and immigration and also a refill of one of our gastanks. Every 4 months we have to refill one of our two 11kg gastanks and last time we did this was on St. Lucia in April. But prices for gas are app. double than last time so we stop it when the bottle was half full and will have it refilled later. We still have gas for another 3 months. Next day morning we set sails for the short leg to Mayreau and drop anchor in Salt Whistle Bay. When we visited this island in May this bay was full with boats and now, only 5 yachts anchor here and so we can enjoy this beautiful bay and relax on one of the most beautiful beaches in the Caribbean Sea. In May we did not find enough space to anchor here so we had to move on to Saline bay and walk to Salt Whistle Bay. In the meantime most yachts have left for destinations further south like Trinidad or Venezuela. So only some day-excursion boats and charterboats are anchoring here too.
After two days we leave for the Tobago Cays and here also the whole anchorage is empty, only 10-15 boats and only 2 of them are liveabords. All the others are charterboats staying for one or two days. Just 3 months ago at least 50 or even more boats had dropped their anchor here. But unfortunately the weather is not fine at all. It rains very often and winds are 25-30kn. The turquoise water has gone and now it is green and the sky is cloudy. Having so strong wind loads our batteries and we have so much electricity that we can run our watermaker on batteries and get rid of some of the excessive electricity produced by our windgenerator. While listening to the weather forecast we learn that a tropical depression is developing east of Tobago and heading to Grenada. Yachts are asked to be prepared for winds of up to 40kn and heavy rainfalls. So we decide to leave Tobago Cays and head for some shelter in Tyrell Bay where holding of the ground is good. On Mayreau the ground is hard sand and not so ideal for anchoring in heavy weather conditions with our CQR-anchor. Holding in Tobago Cays is excellent but there is no shelter from the wind and maybe the depression gathers more strength and we are faced 50kn! Sailing back to Carriacou was really fun, as the 20-25kn NE gave us a speed of 7kn and Lena was not able to have her normal nap as the time between lifting up the anchor and dropping it again was just to short! When checking in with immigration and Customs again in Hillsborough the officer greeted us with "welcome back". We have left Grenada for one week and we now asked for a 3 months stay till end of October.
We made it to Tyrell Bay quite in time and so we could enjoy a quite night before wind picked up in strength next day afternoon. Within one hour it changed its direction from NE to S and than slowly to ESE. Unfortunately our headpump stopped working today morning and so we also have an item on our to do list which can not wait till tomorrow. Because we only have one head and the only other possibility would be to go to the bathing platform on the aft and find relief there. In normal conditions we might have done this for one or two days if we had no time to repair the pump. But when a storm is coming up you don't want to go outside if you do not really need to.
So Stephan is disassembling the front bench of our salon as the head pump is mounted in there, unmount the pump, disassemble this one too and hope to get it repaired before it gets dark. Inside the pump a lot of dirt has gathered and blocked the valves. So we clean and remount it only to learn that the pipes too are clocked. Stephan unmounts the pipes and cleans them too. Lots of dirt come out of these and this is indeed a smelly job, hopefully we do not have to do this again soon. Just before sunset we are ready and the head can be used again. In the meantime some boats have left for the mangroves but most of the yachts stay in the bay. The centre of the storm will pass south of us and wind should not exceed 40kn. When the wind shifted S swell came in from the west and we were rolling incredible. So we had some sandwiches instead of the originally planned pizza. Later, at about 8pm wind shifted back to ESE and grew in strength. Wind is howling in the rig and nobody except Lena can sleep well. At 1am, it was Evi's watch, she realized that we were drifting. The anchor held very well but suddenly it may have hit a stone or anything similar and lost its holding. We already have drifted app. 100m and it was only 5m more till we hit another yacht. Starting the engine, lifting up the anchor, motoring to the old anchorsite and dropping it again. We were lucky to get good holding again on the first trial. Taking a look outside only one minute later and we would have hit the other boat. There are nicer things to do when you are inside a 40kn storm then lifting up anchor and reanchor again. So we continue our shifts till the early morning 5am when winds calm down a bit. The tropical depression has become a tropical storm named Ernesto and has hit Haiti and Cuba up to now. In the meantime "Ernesto" was upgraded to a hurrican. Next day we encounter tremendous amounts of rain falls and so we are unable to go ashore as we will be soaked within seconds. We have to scoop out our dinghy several times during the day. Also some strong gusts hit us and due to the continuous rainfall we keep our hatches closed and the air inside gets humid we are sweating again. Summer in the Caribbean Sea is characterised by a high humidity (80-90%), nearly daily rainfalls, temperatures of 28-30degrees and the threat of a hurricane.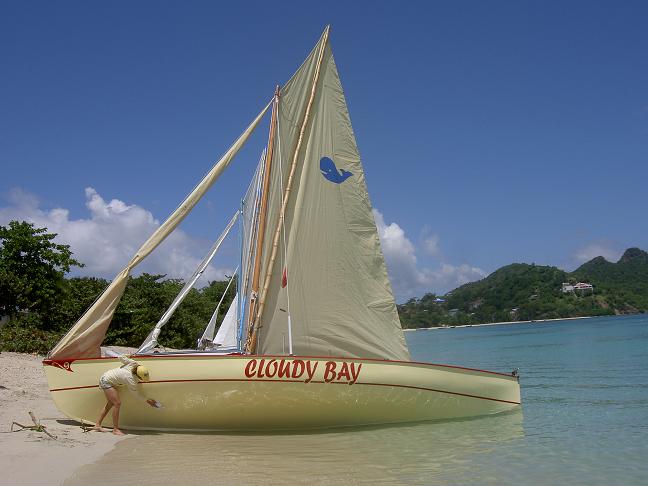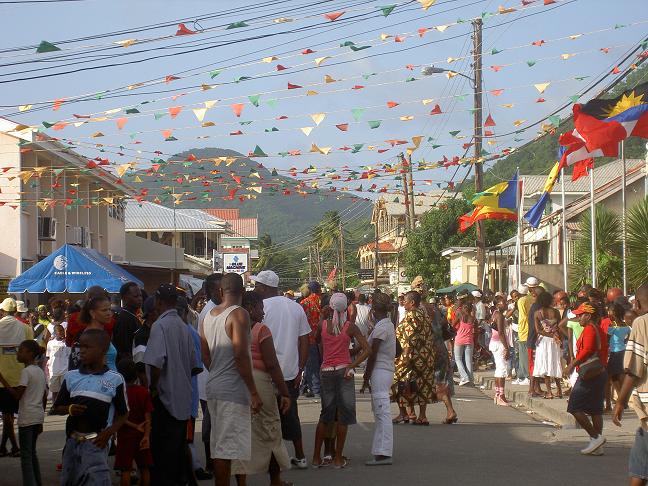 September: Live is getting boring!!!! It's time to get some change! Since 3 months we did not move much except the sail to Carriacou and the trip to Tobago Cays. We wake up in the morning, have breakfast, go to the beach with Lena, then she's having her nap at noon and in the afternoon we go to the beach again and so we already know each stone there. As weatherforecast gives us some hope that we can reach Tobago sailing over night without tacking, we decide to give a try. And we promise that none can stop us this time. So we go to Hillsborough by bus, check out with immigration and customs, stock up on greenstuff and are back at Tyrell Bay at noon. Preparing Mimpi Manis for sailing means removing the sailcovers, getting Fridolin our windvanesteering ready, stowing away every loose item, starting the engine and lifting up our anchor. For the first 5 ½ hours we have to motor and then we were able to sail and head for Tobago without tacking. Wind was ENE 10kn and sea was calm so we had a perfect sail during the night and in the early morning before sunrise we saw the lights of Tobago. Reaching the lee of Tobago we had to start the engine again for the last two hours to get into Man of War Bay. And since Antigua we were lucky to see dolphins again swimming next to us for a couple of minutes and Lena was crying "Flippi, Flippi". One of our stuffed animals is a dolphin called Flippi! At 9am we reach Man of war Bay and drop our anchor. We are really impressed by this spectacular scenery: green hills covered with tropical vegetation, a small village and a nice clean beach are just in front of us; immediately behind this beach jungle seems to crawl down the hills and the only noise we hear are birds! So that is Robinson Island as described in Daniel Defoes novel "Robinson Crusoe". 27 years Robinson Crusoe lived on this island before he managed to get home to England. While on Tobago we certainly read "Robinson Crusoe" which is on stock in our private library. We are so glad we made the trip to Tobago as this is in deed an unspoilt island and worth visiting. Only seen Man of War Bay is worth coming and there are only 5 other boats here.
As it was an easy sail getting here we were not tired and so we went ashore soon. Charlotteville is a nice little fishing village with a handful of restaurants, minimarkets, laundry, library (free internet but strictly NO EMAIL!) and an ATM. Time seems to pass by slowly but the locals are friendly and distant. Even the officers at customs and immigration are friendly and they give us some fruits when leaving their offices.
After a few days in Charlotteville Claudia and Edgar arrive onboard their Morgi. They have been on Tobago for more than one week already and stayed on the southern tip up to now. We are happy to see them again and we had to exchange lots of smalltalk. Even Lena is getting used to be on board of Morgi and she likes getting cookies there. While sitting on the lap of Edgar or Claudia she does not show any sign of shyness and every day she wants to go to Morgi and Edgar. Playing on the sandy beach, going all around the bay with our dinghy, snorkelling at the nearby reef and walking up the hill to Fort Cambleton with its great view of the bay are some of our activities there. The water is green and visibility is reduced to app. 5m but there are lots of colourful fishes two huge stingrays and a turtle!
We also want to see more of the northern part of Tobago than Charlotteville and so we decide to go to the Argyle waterfalls by public transport. Going by bus is cheap 0.60$ (4TT$) bus buses are not very frequent and go only every two to three hours. In the morning we went to Roxborough and get of the bus at the entrance to the waterfalls. Going to the waterfalls is only possible on guided tours but you get lots of explanations on the local fauna and flora. One of the most impressive plants was a 3m stinging nettle! The waterfalls consists of three steps and at the bottom of the third one you can take a bath. Nothing really spectacular but worth a visit. In the early afternoon we try to get on a bus back to Charlotteville but unfortunately we have missed one just by a couple of minutes. So we have to wait. All buses passing by are for school pupils only and don't give us a ride. After 3 hours of waiting the bus from Scarborough to Charlotteville comes but it does not stop as it is already full! To wait for another 2-3 hours is not advisable as it is already 5pm so we were lucky to hop on a minibus bound for Speyside (5km from Charlotteville) soon after the official bus has passed by. And we are lucky again as the driver is willing to take us all the way to Charlotteville for some extra money. Did we really look so desperate? Going 15km each way took as the whole day and we were lucky to make it back during daylight! Next time we do some sightseeing we will rent a car! Waiting for 3 hours at a bus stop with a child is no fun at all and we were glad Lena felt asleep for one hour.
After being in Charlotteville for one week we want to move south to Store Bay and discover some of the Bays in between. Tobago is an odd island and divided into two zones for customs. One here in Charlotteville and another one down in Scarborough. Nobody knows exactly where to draw the border and so each one is claiming to be the most relevant one. In fact this brings some disadvantages for sailors as they have to check out with customs and immigration every time they want to move and check in where they arrive and depending on the mood of the officers they don't allow intermediate stops while having checked out at the last port and not having checked in with the next one. So one officer asked us to stay checked in at Charlotteville while spending some time in Englishman bay, then return to Charlotteville for checking out and going to Store Bay to check in with customs at Scarborough and then to go back to Mt Irvine Bay (altogether 50 miles) while going from Englishman Bay to Mt. Irvine Bay is only about 10 miles. It's no use in discussing on customs regulation and we try to make the best out if it. So we check out with customs and immigration and leave Charlotteville at noon without asking too many questions and head for Englishman Bay. After 10miles we reach a really nice bay with green vegetation reaching down to the sea with palm trees on the beach and a small river flowing into the sea at its western end. We are the only sailing boat here and we enjoy having three days with loneliness and a quite surrounding. We are building sandy castles with Lena, do snorkelling and enjoy the warm waters. Although it is weekend and Englishman Bay can easily reached by car only a handful of people are on the beach. This place is indeed close to paradise. But we have to leave as our fridge is really empty and needs restocking with greenstuff and also we must check in with the officials in Scarborough, and being found by the coast guard at an anchorsite without proper clearance is not the kind of experience we want to make.
"Anka, Anka auf" Lena is shouting, meaning: "lift up the anchor!" and off we go. Only 15 miles to be covered and we were able to sail some of them! After only three hours we reach the anchorsite at Store Bay and drop the hook again! Store Bay is the centre of tourism on Tobago and it has some really nice beaches, the famous Buccoo Reef and all facilities we desperately searched for in Charlotteville, like car rental, internet, real supermarkets (no minimarkets), ... Landscape is flat here in the south of Tobago and not breathtaking in the same way than in Charlotteville. But after 1 ½ weeks close to paradise we enjoy the civilisation. We thought that Tobago is busy with sailing boats but there are only a handful anchoring here. Altogether we do not count more than 20 ships while being on Tobago! Getting to Tobago means going against headwind and so most sailors just pass by and head to Chaguaramas on Trinidad, stay on Grenada or go to Venezuela. But we think that Tobago is worth visiting and having the right weather can make for a nice an pleasant trip. We also believe Tobago to be the most beautiful island we have seen up to now in the Caribbean Sea.
Having dropped the anchor we immediately go ashore and head to Scarborough by taxi only to learn at customs that it is not allowed to anchor in Store Bay and go to Scarborough for checking in by taxi, although this procedure was recommended by customs in Charlotteville! We stay calm, say yes every time the officer tells us to go to Scarborough directly next time we visit Tobago and with Lenas charming smile we get of without having more stress. It's 18miles from Store Bay to Scarborough and there is a current with 2-4 kn setting against you and the wind is usually right onto one's nose and second the anchorage at Scarborough is really roly and there is no dinghydock, ... Having our papers back in order (in fact this officer didn't ask where we have been for the last three days!) we start with the sightseeing attractions. Fort King George was built in the 18th century above town and views are very good. Trinidad can be seen very clearly and also most parts of the town. Unfortunately the museum is closed and so we just stroll around the fort and have a little rest below a huge tree. On Tobago all sights of interest are well maintained and even some (most) plants have a sign next to them telling us their name and family and origin. Description of the history is also provided on boards all over the sights. It's really some contrast compared to Grenada where everything looked run down and rotted!
Getting back to Store Bay in the early evening we can spot Morgi with Edgar and Claudia and they invite us for having dinner with them. They serve pizza, one of Lenas favourite dish. While Lena falls asleep soon after dinner their parents stay awake till 1am! Edgar and Claudia are going back to Trinidad having some more maintenance work done and then they want to make a trip to the Orinoccodelta which is said to be very beautiful. After that they intend to go for Puerto La Cruz (mainland Venezuela) to haul out Morgi and repaint the bottom. Hopefully we will see them again in a couple of weeks. Lena is really sad that Edgar is leaving and even weeks later we have to draw pictures of Edgar to satisfy her :-))
For the next two days we rent a car to go all around the island. As we have learnt just two weeks before, public transport can make it difficult to be back in time. But this time we are unlucky and it rains for two days heavily. Up to now we only had sunny weather with some minor showers twice a week or so but these days are different, heavy rainfall and no sun or the first day and lots of showers and some few moments of sun the second day. Getting to a place of interest means to wait till the rain has stopped, running around the area in constant fear of more rain and hurry back to the car to head for the next sight. The waterwheel at Arnos Vale, Fort Bennet and Fort James (not much left except some cannons) can be covered in the morning. But then rain does not come to an end and so we drive over the island slowly and go through the forest reserve to Speyside to have a late lunch at a restaurant located in a tree. There are not many sights to be visited during rainy days, as there are no rum distilleries, chocolate processing or museums (remember, that the only one at Fort King George was closed). All those beautiful beaches and landscapes look grey when it rains. Going back to Store Bay we stop at a supermarket to stock up on greenstuff, beer and bread. On the second day we had more luck and rain started only in the afternoon. So we went to Hillsborough Dam, an artificial lake with small crocodiles (0.5 to 1m) in. No swimming as this is the drinking water reserve for Tobago! On our way back we stop at Mt. Irvine Bay to allow Lena to run around on the beach. It's a pity that weather was not good for the last two days.
Since a few days hurricane Gordon is out on the Atlantic. We are not threaten by him as he passes us well in the north but we feel his power as the waves generated by him reach as far south as Tobago and so the boat is rolling and huge waves flood the beach. So going ashore with the dinghy can be wet. Resy (Lenas cow) learned it the hard way as a wave entered our dinghy while Lenas parents were just to slow to pull it up onto the beach. Being surprised by the wave Lena let Resy drop into the saltwater with lots of sand in. No wonder Resy had to go into the washing machine as soon we made it back to our boat. Even swimming from the beach is not advisable as especially kid can be overthrown by the waves. So we went to Pigeon Point, well protected by the Buccoo Reef. Walking there makes a nice stroll along the beach and the entrance fee is a hefty 3$US per person (all the other sights are free of charge!). But it is worth going here as there are showers, toilets, a children playground, lots of shade, food stalls, ... and the beach is cleaned every day! We make friends with a Trini family spending a few days of holiday on Tobago. We are not allowed to spent any money and they serve us well with food (Pizza for Lena, fish&Chips for her parents, ice-cream for all of them) and drinks (beer, water, sprite, ...). A hospitality we never had expected! Travelling the whole Caribbean Island chain we never had such friendly experiences than here on Tobago. Certainly we tell them about our lives our journey so far and our plans for the future. But its a shame that we will probably not be able to return this hospitality.
We are now on Tobago since 2 ½ weeks and as we have seen most of the island, although some rain stopped us from doing some hikes, we are getting ready to leave this beautiful island with its friendly people. We also have wandered all over the neighbourhood at Store Bay, been to Fort Milford, seen all beaches, checked all supermarkets for their prices, ... So we went to Scarborough by taxi, checked out with immigration and customs and spent our last TT's (Trini-dollars) buying greenstuff. But were running out of money when it came down to pay for our shopping. So we ask the assistant to put some items back from our cart, but he just said that it is OK, and we should pay next time we come back. Even when we told him that we are leaving for Venezuela and won't come back he insisted on giving us the difference as a discount. It was not much, only 1.80$ US but would this happen to you in a store in Northern Europe? Another example of the friendliness of the people on Tobago. It's sad but we are leaving an island we really like for its nature and its inhabitants. We would have missed the number 1 in our Caribbean Islands ranking if we had not made the trip to Tobago, it was worth every minute we spent on this island!
We are heading for Los Testigos (the witnesses), a group of small islands 140miles west and already a part of Venezuela. But wind from behind and the strong Guyana current (up to 2knots) will make for a nice sail. Shortly after leaving Store Bay we are able to set our Blister, a 125squaremeter sail and enjoy sailing smoothly across the waters. Shortly before sunset wind shifts more to the east and we have to take down the Blister and set main and foresail. But unfortunately wind calms down during night and in the morning we have to start our engine for 2 hours. Just before midday we drop our anchor at playa Tamarindo on Testigo Grande, a bit less then 24 hours after lifting it on Tobago. Our neighbours are well known, at least to us, as we know them since our stop in Agadir, Morocco. In between we have met them on Martinique and Carriacou. The Swiss couple on board their "Zangano" with their cat can remember Lena when she was only 13 months old and did not walk and now Lena is running all over the boat, quite a difference. Lena likes the cat and so she chases her all over the boat to get hold of her for stroking, poor cat! We have a short smalltalk and off we go for checking with the Guarda costaria. Los Testigos is no port of entry and so you have to ask for permission to anchor and stay. Usually you are granted 2-3 days. It's only a short (15 minutes) dingy ride to Iguana grande where the Guardia costaria is based. The officers are really helpful and first thing was shaking hands, second was offering us a glass of cold water and third was thanking us to visit Venezuela. We have never met anything like this, even the officers in Morocco (up to now the number 1 on our ranking list for officials) were a bit more distant. But coming down to officials like on Antigua, St. Maarten or BVIs those are at the far end of our ranking list and should be sent to Venezuela to learn!
Those three days pass by really fast, we stroll over the nearly uninhabited islands where no tourists can come as there are no hotels or regular connections to any other island or mainland of Venezuela. Only sailors manage to get here. You won't find more than excellent beaches, a few huts/houses, two "restaurants" and a very basic shop. The people live on fishing and "?". For the first time we get in real contact with sharks, a local fishing boat stops at the beach to buy some drinks at the shop and we are invited to look at the catch of the night, two blackfinsharks each 2.5m long and a mouth dotted with sharp teeth. We are all glad that this animals are not alive anymore and the fishermen tell us that there are "mucho tiburones" (many sharks) out in the sea. So we stayed very close to the beach while swimming today and did not feel like jumping over board the next day.
21st September: we are still on Los Testigos and Lena is having her second birthday! While celebrating her first one in Gibraltar we are now in Venezuela! While she is sleeping we inflate some airballoons, bake a cake and burn two candles in the morning sing "happy birthday" early in the morning. Before having breakfast she opens her presents and she really likes the items, a a pair of armbands, a book and an inflatable crocodile (1.63m long). She really likes her crocodile and plays with it the whole morning and going to the beach without it would be impossible. Will it ever be possible to deflate it again? We are not sure on this as she insists that the crocodile must join her in bed. But as space on a boat is tiny we are not so happy of having a huge crocodile on board. Maybe we think of such presents again before next birthday or Christmas! And everybody asking her what she got as birthday present she tells the same story:"Lea Buztag, Lea Schenke, Lea Kokoil, gooooosse Kokoil!!!". (Lena birthday, Lena presents, Lena crocodile, huge crocodile!" We hope that she will get used to have a crocodile in a couple of weeks and does not want to take it with her in bed.
It's Friday and we have to leave Los Testigos as our permit expires. But we were able to celebrate Lenas birthday on Los Testigos and now she is happy with her crocodile. And we liked these remote islands because naturalness. So we lift our anchor at 7am and head for Isla Margarita which is supposed to be a easy 50 miles (10 hours) sail. We have to leave so early as we don't want to arrive at Porlamar in the night, it's no fun anchoring in a bay with app. 100 boats when it is already dark. Sailing should be easy as winds are app. 10kn from E and sea is calm. But after 4to 5 hours wind calms down and we have to start the engine to maintain our average speed to arrive during daytime and unfortunately the Guyana Current is not so strong as we would have liked it. But motoring has some advantages like producing water with our watermaker, charging the batteries (thanks to our strong new alternator) and some disadvantages like steering by hand as our autopilot still has not arrived and the noise of a running engine. At 2pm our fishing line runs and so we stop the boat and yes we are lucky, a 30cm long Tuna has taken the bait. This one will make for a nice change at dinner and we are all happy that we did not have to deal with a 2.5m blackfinshark. We were unlucky with our baits for the last few weeks, as one bait has been lost without a reason, a second one has been caught by a buoy and on our way to the Tobago Cays we have caught a frigate bird!
Just short before sunset, sun was already red and only mm above horizon we manage to sneak into the anchorage at Porlamar. App. 80 yachts are anchoring here and there are lots of 20-30 stores houses surrounding the bay. Not an idyllic place after Tobago and Los Testigos, in fact a shock for our eyes. You must imagine that there are yachts anchoring here for years and not moving any more! But as we intend to stay only for one week to do provisioning and buy some other items like christmas presents we will just close our eyes when looking into the wrong direction and think of all the nice places we have been up to now. But a bay like on Los Testigos with all the possibilities of Porlamar will not be found easily. But before all of those thoughts we have to drop our anchor and we are really astonished as it takes us 8 attempts to get it settled in a sufficient and reliable way. Every attempt to dig it into the sand we just manage to drag it over the ground for 50m and then we have to stop this attempt because of other ships in our neighbourhood. Lena likes lifting up the anchor and is shouting "Anka Anka auf!!" (anchor anchor lift!) but it is no fun to get the ship anchored while sun is settling down rapidly. But in the end we succeeded although it took us 1 hour and it is dark now. But instead being able to calm down now we must realize that we have saltwater in our engineroom, app. 200L have managed to pass by a loose ring of the shaft seal. And also the automatic switch of the bilge pump did not work correctly. So we have to pump out all the water and clean the bilge but before that we have to fix the ring of the shaft seal again. It took us 15 minutes to fix the shaft seal but 2 hours to clean the bilge! A long day has come to an end at 10pm and we are lad to go to bed!
Next day morning we start our shopping tour right into Porlamar. Either by a bus free of charge or taxi, which are pretty cheap here, we visit all shopping centres in Porlamar although some say that there are more! Every day we are going to another shopping centre for provisioning. At the first visit we buy some trial ones depending on the availability and amount we need. It does not make any sense to buy 6 different sorts of coffee as we will need weeks to test them, but with olives we can test them within one or two days, the same with fruit juices. To stock up on food for the next months can be really hard work but after 3 visits we finally succeeded and are ready to stow away all those hundreds of tins, bottles, packages, ... While shopping we get very hungry when seeing all those food we have missed so much for the last months. On Grenada we bought a 5kg Cheddar cheese and we still have some left! In fact this cheese is really tasty but after weeks of eating the same cheese every day you get tired of it and huge amounts of pepper and salt can't help. We buy lots of sausages, different kind of cheese and, and, and. We did not had any sausages since Martinique and that was End of April! We do not only spent numerous hours in supermarkets but also all those other shops. We buy kids' clothes for the next years as those are incredible cheap.
Buying high amount purchases is very easy. There is nearly a daily (Monday to Saturday) bus to one of the huge shopping centres like Sigo or Rattan and those are perfectly organized. At 9:30am a bus is leaving from the dinghy dock to the shopping centre of the day. Those buses are free for sailors and once at the shopping centre you just fill up your cart with all your needs, get it to the cashier and then it will be packed into cartons, well sorted and brought to a cooled van to be delivered with your bus (return at 1pm) at the dinghy dock. When unloading all those cartons will by stacked by your personal shopping number and they are all numbered like carton 2 of 11, so that no carton will be missed. Then the guy taking care of your unlocked dinghy at the dinghy dock will help you with his cart to transport all your cartons to your dinghy and help you to load them into your dinghy. Anything else you need for high amount purchases?
In the same way it is easy to get diesel and fuel for your outboard. Every morning a "Dieselboat" is making its way through the anchorage and will stop with you when they hear you shouting or see you waving at them. You then place your order for the next day and they will deliver what ordered free of charge. We ordered and got 250l of diesel and 60l of outboard fuel and paid only 22Euros. This is 0,07Euros per litre. OK the "Dieselboat" buys the fuel for as less as 0,02Euro per litre. But when prices were raised just a few weeks ago up to 0,40Euros per litre for foreign boats (prices for Venezuelan boats remained low!) it works out for all the yachts. There will be no yacht paying the full price at the filling-station with this service around when there is a much cheaper possibility to stock up. You better don't ask if this is legal or not!!!!! Also beer and cigarettes are for sale from the "Dieselboat", so we order 15 trays of Brahma (360 tins!) for the next day 3pm. But when returning at 1pm from shopping we are shocked! The whole cockpit is loaded with beer. They must have been here earlier and delivered in advance. That's service we appreciate and next day they pass by to collect their money. What would they have done if we had left during the night? Venezuela can give you an easy time!
For those who want to get drunken for no money at all, come to Isla Margarita! Beer at happy hour at Rumbar is only 0,25 € , Cola-Rum 0,30 € and a Caipi as much as 1 €. That's prices we really like! It's no wonder that lots of emaciated sailors marked by the alcohol look like Robinson Crusoe. They have buried their anchor here some years ago and not moved their ships since then. When they have some more money they get themselves a Chica (nice girl) for some Bolivares and otherwise they meet at the happy hour. We hope that we will not end like them ;-)
Initially we were afraid of all those aspects of crime, like dinghy theft, boarding in the night, ... But when you are here all those reports seem to be non existent any more. Certainly from time to time you here of a dinghy theft (not hoisted during night). But up to now we did not get notice of a severe crime and all the other sailors tell us to be carefully and nothing serious will happen. So to keep a common sense will be all you have to do and have some luck. Do not walk around in certain areas at night (you don't walk around with a 2 year old kid at night) and some areas even at daytime, hoist up your dinghy at night and lock it with a chain, close all your hatches when you are not on board and have your alarm armed at night! We feel quite safe here and every morning there is a cruisers net on VHF (Ch 72 at 9am) with a weather report and lots of information on local activities. Raising a question during the net will certainly bring you more than only one helpful answer. Or just ask Juan who is running a marina with a dinghy dock, clearance help, small store, buses to the shopping malls, ... And when in town feel free to ask any Venezuelanean guy (speaking Spanish will be much of a help!) for help. They will help you or try to find someone who can help you. Do you think it is normal that a shop-assistant will lead you through one of the largest shopping malls right in front of a competitor if they don't have the CD you are looking for? If this ever happens to you in Germany, US, ... please report to us. Usually you must be glad if they tell you that are is another shop close by.
As we have stocked up with lot of food again and organized most of the other item (christmas presents, ...) we intend to leave next week. But we don not know where to go. There are two possibilities, either we head for the outer islands like Blanquilla and Tortuga which are said to be really beautiful and laid back or we go to Puerto La Cruz to moor the ship there and head for the mainland of Venezuela. Especially the Anden Mountains are a strong attraction as it is much cooler there and on Pico Bolivar (more than 5000m) snow can be seen also in summer. Who knows ....